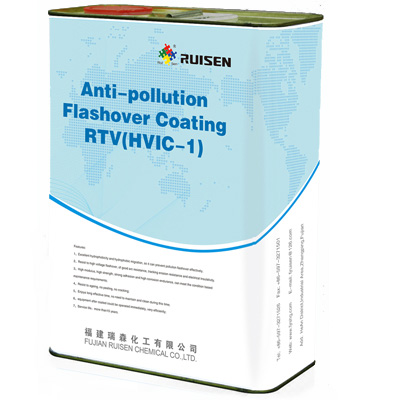 Anti-pollution Flashover Coating (RTV)
High Voltage Insulator Coatings (HVIC)

To prevent the electrical equipment from pollution flashover in humid climate; Free of surface maintenance and cleaning after coated.

Features of RTV High Voltage Insulator Coating:
1. Excellent hydrophobicity and hydrophobic migration, so it can prevent pollution flashover effectively.
2. Resist to high voltage flashover, of good arc resistance, tracking erosion resistance and electrical insulative.
3. High modulus, high strength, strong adhesion and high corrosion endurance, can meet the condition-based maintenance requirements.
4. Resist to ageing, no peeling, no cracking.
5. Enjoys long effective time, no need to maintain and clean during this time.
6. One-component room temperature solidified, handy to use, equipment after coated could be operated immediately, very efficiently.
Application Scope of High Voltage Insulator Coatings:

1. Power company, Utility, Power Station, Substation, Transmission Line, Overhead Line & Distribution Line, etc.
2. Glass or Porcelain Disc Insulator, Bushing, Long Rod Insulator, Hollow Porcelain Insulator, etc.
3. Different kind of pollution environments, such as slat fog, cement dust, fly ash, oil and other industrial pollutants.



RTV Insulator Coatings also be Referred to as:

1. High Voltage Insulator Coatings (HVICs)
2. Anti-Tracking Coatings
3. RTV Silicone Insulator Rubber (SIR) Coatings


Product Standard of RTV Coating for Insulators:

DL/T 627-2012 Room Temperature Vulcanized Silicone Rubber Anti-Pollution Coating for Insulators
IEEE 1523 IEEE Guide for Application, Maintenance, and Evaluation of Room Temperature Vulcanized (RTV) Silicone Rubber Coatings for Outdoor Ceramic Insulators

Contact us get more details about RTV Silicone Rubber Coating, such as TDS, Application Method, OEM etc.

We can supply different color of RTV Insulator Coating, such as RED, GRAY, WHITE and other color, also customer required.